Outsource Social Media Marketing Services
We at Web Infomatrix have a dedicated team of
Social Media Optimization Services. Social media marketing
is an integral part of
digital marketing.
There has always been a lot of discussion related to the role of social media marketing in increasing brand awareness. Our
digital marketing agency
has experience in providing
social media marketing services
in an optimized manner.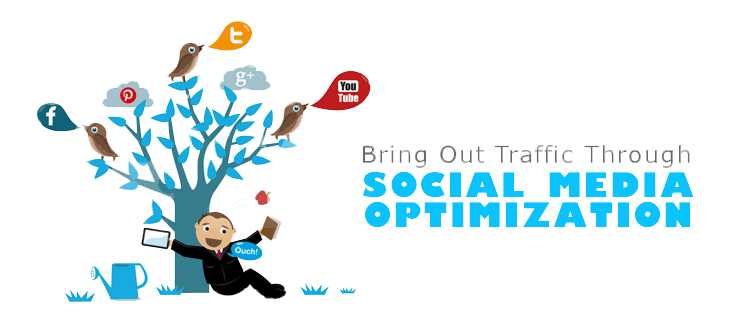 It has proven to increase brand awareness with an ever-increasing number of individuals using social media. Successful brands usually have good social media presence and apply effective social media marketing techniques for increasing brand awareness. Our experts implement this technique to generate quality customers for our clients on a regular basis.
Social Media Marketing for a Successful Business Start-Up
Social media marketing is the use of social media platforms to link your business to your customers. Using social media marketing, you can communicate your idea with your customers and increase sales.
Social media marketing mainly involves posting engaging content on social media platforms like Instagram, Facebook, etc. It helps you gain the trust of your followers and you can influence them to spread good words about you.
Our digital marketing company Web Infomatrix provides affordable social media marketing services. You should be aware of the importance of social media marketing when you choose to implement it for your business.
Importance of social media marketing
Cost-effective:

advertising your business in social media saves cost as compared to traditional marketing.

Customer loyalty

: your customers can easily find you if you have a social media presence. Social media marketing is a great way of proving your loyalty among your customers. As a result, they connect with you on a deeper level and become loyal customers of your brand.

SEO Rank:

it is not enough to just update your websites and blogs to get a good search engine rank. To get a good score in the marketing society, you need to implement social media marketing.

Increased traffic:

if you have a social media presence and implement all the rules of proper social media marketing, then you will see an increased footfall on your website.
Thus, without social media, it has become impossible for businesses to influence people. You need social media marketing to provide power to your business for growth.
Social media strategy
It can be defined as the ways and protocols to spread awareness regarding a business. It involves the usage of a collection of tools so as to use social media platforms for company sales. You can also engage followers and create smooth communication when you use a social media marketing strategy.
The importance of social media marketing strategy are:
Better branding of the company.

Good exposure to sales and leads.

Increased approach towards website traffic.

Less marketing cost.

Improved SEO.

Improved customer interests and reviews.

Good start-up foundation.
Thus to have access to all these features and advantages, you should get in touch with a social media marketing company like Web Infomatrix to help your business grow accurately.
Proposal: Social media strategy
A social media strategy proposal is a document containing ideas that you present to your clients. It consists of the ways in which your social media marketing agency will make strategies to meet the goals of the clients. If you follow a unique set of strategies for each and every company then it will increase customer satisfaction and help the business grow.
But creating a good proposal is not an easy process and you need to know certain tips to do it accurately. The tips are as follow:
●     Include the goal of your company.
●     Include the challenges that the company is facing and the duration of the same should also be mentioned.
●     Goals and challenges that the company has already overcome.
●     Explain the use of social media.
●     Mention social media goals.
●     Include the budget.
●     Mentions an approximate time period required to fulfill the goals.
●     Include past social media experiences. 
It must now be clear why you need a social media marketing strategy. With a social media marketing proposal, you can win the trust of your client.
Conclusion. 
Social Media Marketing Strategy
What is the role of social media in increasing brand awareness?
Commitment empowerment: our social media marketing company ensures that your business has a marketing strategy where you can draw in customers at each phase of their excursions with your business. Through discussions, retargeting, etc, you can make customers engage with your brand on social media.
Effective content: your social media marketing strategy should include posting informative content regarding your business on social media. It will allow your customer to get a detailed idea of your product and services. As a result your client base will increase and make it easier for individuals to discover you.
Client association: you should build healthy client connections through social media marketing. As a result, your brand awareness will increase and boost deals for your business. Moreover, different supporters or guests can also get familiar with your business and it will help you build trust with your clients.
Thus, you must understand that social media marketing definitely plays a big role in increasing your brand awareness in the digital age. But it is not an easy task to increase brand awareness using social media marketing. You will need to work with a social media marketing company like Web Infomatrix to ensure that you get effective results.
Why choose us as your social media marketing agency?
Web Infomatrix is a digital marketing company where many different services including social media marketing are provided. If you are starting a business start-up then you should most definitely get in touch with us for a proper social media marketing strategy. With that, you can make your business grow and reach a wide range of audiences

We have been providing social media services for many years now. Our company has social media marketing experts who guide your company to get the best services and enhance brand awareness. Social media has emerged as an integral part of ensuring that you can reach potential customers and build a trusted relationship with them.
Get in touch with us to get the best social media marketing services in India. Visit our website or call us to get further details.
Have Doubts? All Your SMO Questions Are Answered Here
Let's increase your sales.
What People say about us?
We have assigned Technians with a job to complete our web application in the very small amount of time. Their team worked day and night to deliver it before the deadline. Their services have been monumental.
They have an amazing team and I would highly recommend to anyone who wants a super professional service by a person who is a great communicator and shows initiative.
I would like to thank you for your 4 years of service to our company. We have always appreciated the prompt and timely deliveries of computer softwares, software solutions and advice from your end.
Thanks for Technians team who has supported in implementation of CRM product in very short period of time.The overall experience in dealing with you and your team was quite satisfactory .We look forward for any support if required in future.