Best ERP Software Solutions
In a world that is filled with all kinds of competitions, it becomes extremely necessary to manage your data and resources to save yourself from any hassles in the future. That is where the role of ERP Solutions provided by our company comes in. ERP which stands for Enterprise Resource Planning is a technique to integrate different data sources of your company into one single unified system by making use of different software.
At Web Infomatrix we have a team of highly experienced developers that can create brand new ERP for your business. We also provide customization services for the current system that you have with custom integrations.

The ERP solutions provided by our company are focused on the enhancement of organizational performance so that our clients can have better control over their management and planning and compile all the data with perfection. We endeavor both hosted ERP solutions as well as the ones that work on servers. CRM, on the other hand, deals with the long-lasting relationship of the customers with their clients with perfection. CRM stands for Customer Relationship Management and is arrayed with a list of processes that are used to track and organize the contact details of customers with luminosity.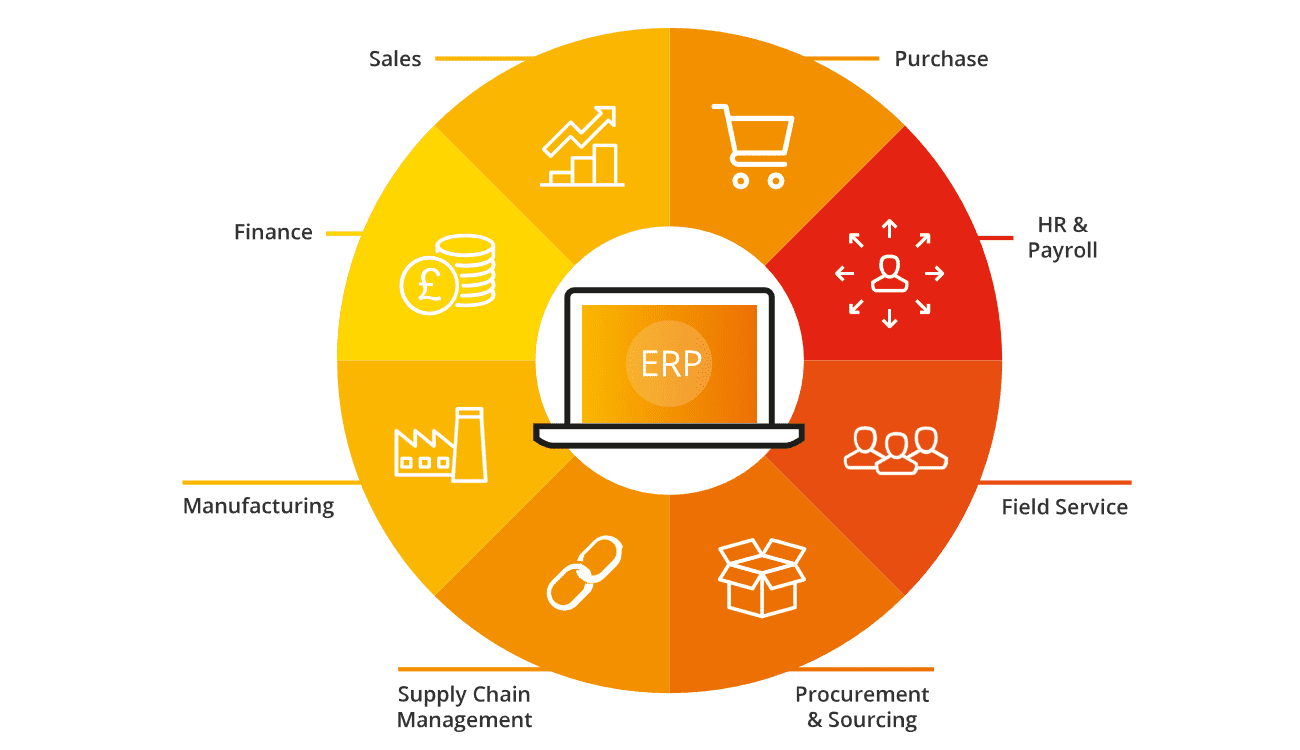 ERP Development Company | ERP Development Services
Features of Custom ERP software
Our CRM services enable our clients to enhance their relationship with their own customers and use their contact details for targeted marketing in the future.
When you choose us then you get:
Custom ERP Solutions: Our team develops scalable, enterprise-wide systems that can automate critical processes for your business. You can also get key data insights across on-premise, mobile, and web-based platforms.
ERP migration solution: Update your system to ensure data integrity by seamlessly integrating systems, modernizing data infrastructures, and integrating raw data silos.
ERP implementation: Deploy and configure the custom network, servers, security, and data management solutions in every department of your organization. Throughout the process, you can also easily maintain data integrity.
ERP extensions and plug-ins: At our agency, we design, develop and implement custom plug-ins and extensions. It connects the custom ERP solution of your organization with added features, modules, and functions.
ERP consultation: We analyze your business environment to identify the incompatibilities of disparate systems. Based on the data received and our analysis, we formulate strategies to integrate and migrate important ERP software.
ERP application development: We have a team of experts that can build feature-rich web-based applications for your business. To keep your business connected they use the best technologies like Java, NET, Python, and more for application development.
The custom ERP solutions of Web Infomatrix are built with numerous features and functionalities which are centered around creating a one-on-one solution that helps the business operation run smoothly. Some of the features of our custom ERP software are:
Customer relationship management
Distribution management
Enterprise Assets management
Material resource planning
Finance management
GR management
Inventory management
Project management
Supply chain management
Purchase order management
Warehouse management
Document management
Service management
Field service management
Reporting and analytics
The lot and serial traceability
ERP Services at Web Infomatrix
At Web Infomatrix we develop custom ERP solutions that allow administrators to take control of a business from inventory and supply chain to distribution and sales.
Custom ERP Development: automate the workflow at your organization with off-the-shelf customized ERP Solutions.
Expert ERP implementation: Deploy and Configure the custom networks, servers, and data management of your entire organization with data integrity and negligible downtime.
Seamless data migration: You can seamlessly migrate data from your current to a new ERP environment using a combination of our latest technologies and expert data migration strategies.
ERP integration services: Make use of ready-to-use solutions and connect it with ERPs or other solutions so that there are zero business workflow interruptions.
Data warehousing: Use your center repository data warehousing system to extract, transform and load information from disparate sources. You can then set up multi nodes for data aggregation.
Powerful reporting: Get custom reporting features for real-time queries so that you have data-intensive reports.
Get in touch with us for further details regarding our ERP solutions.
Let's increase your sales.