Remote Infrastructure Management (RIM) Services
Web Infomatrix global network operation centers (NOCs) are the keystone of our service delivery architecture. These state-of-the-art facilities highlight Web Infomatrix accurate standards of full redundancy, high availability, and uncompromising security. Our comprehensive range of remote infrastructure management services give our customers the ability to reduce costs and improve service levels. Customers can implement a complete remote service desk solution or simply start with remote monitoring for a portion of their network, a select site, or a group of servers. Additional remote infrastructure management services can easily be added as needs change. Web Infomatrix remote infrastructure management solutions are based on a sophisticated architecture that is open and scalable and which enables the integration of vendor or customer-supplied tools – eliminating a task that stymies most companies. As a result, we provide clients with a consistent, consolidated management view of their environment.
By delivering remote infrastructure management services from our NOC, we have helped many global enterprises cut down their costs of infrastructure management and gain access to expert skills. Each NOC supports multiple monitoring consoles that proactively manage remote client environments and over 10,000 applications, databases, or servers, as well as 20,000 SNMP devices. These monitoring consoles are scalable and replicable to ensure faster service deployment and swifter problem resolution for even the largest customer.
Web Infomatrix provides automated, continuous, 24×7 availability and performance monitoring of the client's environment. We monitor IT components and transactions for specific events, threshold violations and errors/faults, based on pre-defined metrics. Our remote monitoring service automatically notifies the customer or designated service provider when events defined by the customer are detected. Our clients have the option of choosing how problems are resolved and who is responsible for solving them. Notification includes an escalation and tracking process as determined by the client. Web Infomatrix collects and stores up to fifteen months of historical information to facilitate trend analysis and IT planning. Our remote monitoring service helps to maximize performance, significantly enhance service levels and immediately reduce downtime.
While developing secure web applications we analyze helplessness categories and potential threats (external or internal) depending on application scenario and technologies used. This enables us to develop an effective security architecture and take proper countermeasures.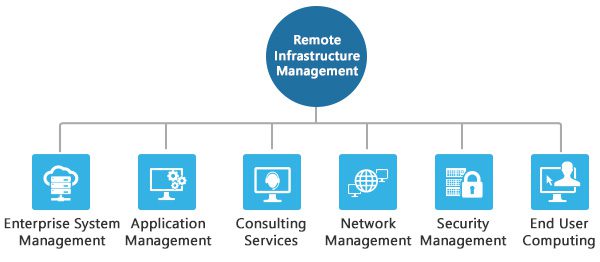 Remote Infrastructure Management
Web Infomatrix remote infrastructure management solution goes beyond 24×7 monitoring to include proactive problem identification and resolution. Built-in root cause analysis helps to identify and automatically fix potential problems before performance is affected. Our remote infrastructure management solution will automatically carry out clients' pre-specified instructions to fix problems such as restarting sluggish servers and the applications that reside on them without human intervention. Web Infomatrix remote infrastructure management solution can also automatically dispatch on-site service providers to address high priority issues. By automating corrective actions, IT organizations decrease problem resolution time and improve system availability.
Web Infomatrix remote operations service combines our remote infrastructure management capabilities with the power of service level management to deliver the quality of service your business demands – guaranteed! Our remote operations solution automates the process of IT infrastructure administration, including patch management. Web Infomatrix can manage maintenance schedules and administrative tasks such as resource assignments and notification options, depending on the level of service desired. Above all, we provide flexibility. We can handle scheduling, notification, and other administrative tasks or self-manage those tasks via the Web through our secure Customer Portal. Self-service scheduling saves time and allows organizations to easily manage notification and escalation schedules via the Web, 24×7. Web Infomatrix remote infrastructure management solution enables organizations to add, move, or change IT components without disrupting service to users or requiring resources to work off-shift. Web Infomatrix operations experts can analyze performance trends and proactively identify capacity requirements so that IT infrastructure keeps pace with business growth, helping our clients to meet the service demands of their organizations.
Web Infomatrix remote service desk solution provides complete 24×7 help desk coverage – from call management to service request tracking to problem ticket management to change request management. Our remote service desk is a cost-effective alternative to in-house service desk applications. During implementation, Web Infomatrix works with clients to complete a series of templates and workflow definitions to establish fully functioning trouble ticketing and detailed service reporting enabling IT organizations to validate their service level agreements. A searchable knowledge base expedites problem solving so that client issues are resolved faster and more efficiently. Service tickets are automatically generated for those events that have been pre-defined – up to and including automatic notifications by phone, email, or pager. A web interface also allows Web Infomatrix and customers to enter and track trouble tickets and service requests from anyplace via the Internet while our service desk solution tracks all incidents until resolved. Web Infomatrix provides remote service desk solutions through its global NOC centers, making it easy to provide round-the-clock service and ensuring that issues are addressed in a timely manner, no matter where they occur.
Configuration Management :
Unauthorized access to application administration, hacking of configuration.
Sensitive data discloser, network eavesdropping, data tampering
Securing Applications through Development Life Cycle
From initial stages of the software development cycle Iflexion specialists thoroughly consider security implications. This allows defining potential risks early and implementing effective countermeasures.